We have added to the site an in-depth profile of Vinci, the French construction mega-corp contracted to work on the jungle demolition and build the "Great Wall of Calais". (NB: this was originally published on the Corporate Watch website in June.)
Beyond Calais, Vinci is well know as the main corporate protagonist behind the hotly contested Notre Dame de Landes airport scheme. As well as massive forest destruction and alleged corruption in Russia's Khimki forest, slave labour allegations in Qatar, and trade union blacklisting in the UK, and much more. Vinci is using its profiteering French toll motorway contracts to fund an aggressive worldwide expansion with schemes from Hong Kong to Hounslow.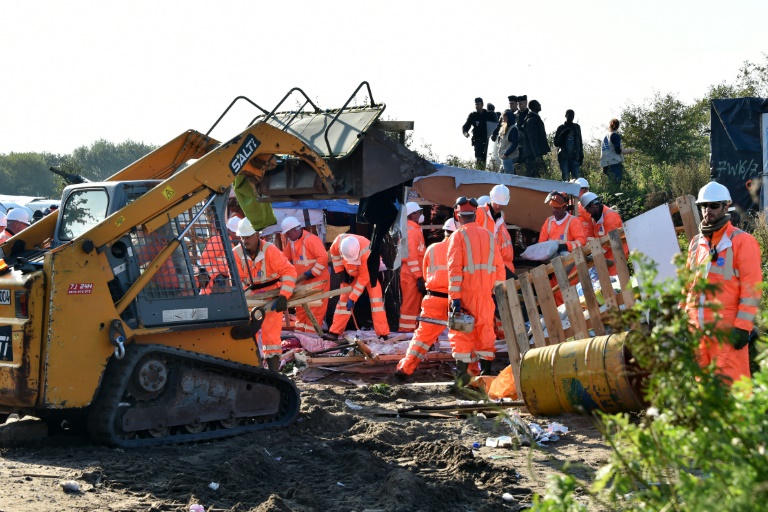 Vinci is one of the world's largest construction companies employing over 185,000 people. The majority of its business is in France, but it operates in over 100 countries and is expanding its global power, mainly by buying up local subsidiaries.
Vinci has been involved in numerous scandals both in France and globally. In Calais, it was responsible for demolishing the Jungle refugee camp and building the anti-migrant wall. In the west of France, Vinci is the concessionaire behind the controversial airport scheme at Notre Dame des Landes, which has led to the "ZAD" resistance movement.
In the UK, Vinci was one of the major construction companies that ran the "blacklist" against trade unionists and other workers. In Russia, it is accused of corruption and massive environmental destruction in the Khimki Forest motorway scheme. In Qatar, it is accused of using forced labour.
The core of Vinci's business is running privatised, government-backed infrastructure in highly lucrative "concession" deals. Over half of all its profits come from its extremely profitable concessions to run much of the French motorway system. Out of every four euros paid by drivers in motorway tolls, one euro goes straight into Vinci's profits.
Vinci's strategy is to seek similar high-profit concession deals in other sectors and other countries. Recent moves include major airport concessions and toll road schemes from Chile to Vietnam.
Although Vinci is based just outside Paris, its owners are mainly international investment funds. The two biggest shareholders are US fund BlackRock and the dictatorship of Qatar.
Vinci is financially stable and profitable: although building activity has slowed in many of its markets, this is more than made up for by concession mega-profits. The construction businesses are not highly profitable in themselves, but help Vinci secure these deals.
One of the fastest growing divisions, Vinci Energies, is the company's high-tech wing involved in developing "smart" infrastructures which can integrate new surveillance and monitoring technologies into transport systems, cities, and other environments.
Vinci's golden egg, the French motorway concessions, could be vulnerable to political shifts or public discontent. Other vulnerabilities may emerge as the company pursues high-profit deals in new countries, where it needs to create new political alliances with unfamiliar regimes and oligarchies and face new competitors — and possible resistance.