The Regional Council is an elected local authority, which covers the same area as the regional prefecture. It is not as powerful as the prefecture, or as the mayor in the town centre, but has some budgets (e.g., for education, environment, local railways), accesses EU funds, and so wields some political influence.
In relation to migrants, the Council's main importance is that it is a large landowner, particularly of rural and ex-industrial land on the outskirts of Calais. It is the technical owner of the Port site, although this is leased long term to the arms-length company SEPD. Not only the recent big Jungle, but many other previous migrant settlements, have been on its territory.
Until recently the regional council was Socialist controlled and acted as something of a counter-weight to the power of the right-wing Mayor Bouchart. But this changed after the 2015 elections in which Les Republicains and Front National wiped out the Socialists, ejecting all their councillors. The new regional president Xavier Bertrand is a close political ally of Calais mayor Bouchart, described by some as her "mentor". They support each other in criticising government policy and calling for a tougher anti-migrant line.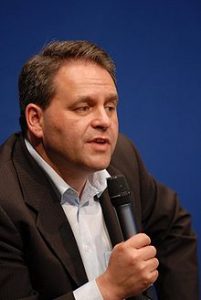 image: Xavier Bertrand
Internal organisation
The "Hauts de France" council was created with the merger of the former Nord-Pas-de-Calais and Picardie regions, and had its fist election in 2015. It is based in Lille. It has 170 directly elected councillors, who then elect a regional president. 116 councillors are from the Les Republicains and other "union of the right" parties; the other 54 are Front National.
The president is Xavier Bertrand, a former government minister. Natacha Bouchart, Mayor of Calais and Senator, is also a councillor and the council's Vice President for "the Sea, Ports and Coastal Policy". FN leader Marine le Pen is also a councillor.
Activities
Owns the site of the Port, which is leased to SEPD.

Owns large amounts of land around Calais, site of many migrant settlements.

Works closely with CCI, main owners of Port.

The Regional Council / Presidency is also a political platform: the new president Xavier Bertrand has taken a much more active and outspoken anti-migrant stance than previous leaders, frequently making media statements calling for a hard line against "irregular migrants", and criticising government policies.