Within Calais town, the Mayor exerts considerable control over the use of buildings and public spaces through planning, licensing, budgetary and other powers. This also brings political influence on the Port, and on other landowners, NGOs, businesses, and pretty much anyone who wants to operate in the town.
The Town Hall is dominated by the Mayor, who is elected every six years. Calais was a stronghold of the Communist Party for decades, until Natacha Bouchart took the town hall in 2008 for the right-wing UMP party, now renamed Les Republicains. The Left has collapsed in Calais, and the Front National has become the main rival force to the mainstream right in recent elections. Natacha Bouchart has used her power in attempts to clean Calais of migrants. 
The Mayor heads a sizable Town Hall infrastructure, which includes a bureaucracy, various sections of municipal workers (transport workers, maintenance and street cleaning, etc.) and the municipal police force.
The Mayor has a team of senior assistants called "adjoints to the mayor" who head various arms of this structure. A key figure is Philippe Mignonet, adjoint for security, who directs Town Hall anti-migrant operations.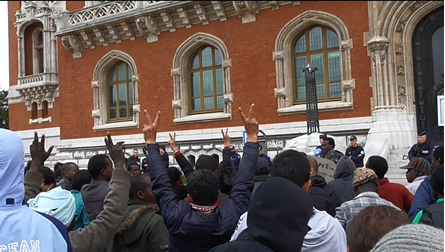 image: a protest at the Calais town hall (Mairie)
Mayor Natacha Bouchart
Bouchart is a highly divisive figure in Calais. She is herself of migrant origin, Armenian on her father's side and Polish on her mother's, her maiden name is Keuroglanian. This has not stopped her from pursuing a tough anti-migrant policy in Calais.
Bouchart was elected a national Senator in 2011. Perhaps her best known activity as Senator was promoting a new anti-squatting law, on the back of her campaign against migrant and "No Borders" squats in Calais. In 2016, she stood down as Senator and instead became a Regional Councillor, and Vice President of the Regional Council in charge of "the sea, ports and coastal policy". She is politically close to regional president Xavier Bertrand, who is described by some as her "mentor". Within the Republicains, she has been a supporter of Nicolas Sarkozy; both her and Bertrand backed his failed 2016 attempt to make a presidential comeback as Les Republicains candidate.
Bouchart's father, Maurice Keuroglanian was also a right-wing local politician, and Natacha followed him into the then RPR party (right wing party set up by Charles De Gaulle) aged 16. Before becoming mayor she was a muncipal and regional councillor, and parliamentary assistant to the UMP deputy Claude Demassieux, seen as her original political mentor. Later, she worked as purchasing manager for the centre scolaire St Pierre, a local private school; her boss there was Demassieux. When she was elected mayor, Demassieux was her original "Chef de Cabinet", and considered by many at the time to be the "power behind the throne". The St Pierre school canteen and facilities have since been used by CRS stationed in Calais.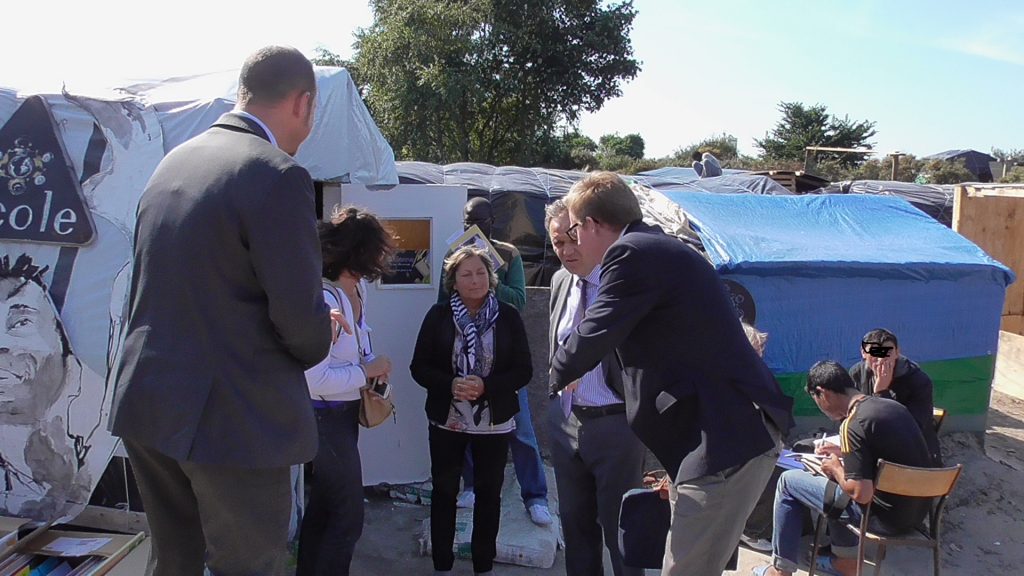 Mayoral Adjoint Philippe Mignonet
Philippe Mignonet is a close assistant and political ally of Bouchart, who has been her "adjoint" for security since the beginning in 2008. He has been the man directing operations against migrants on the ground, often accompanies police and council workers on large raids, and has given numerous media interviews on the "migrant crisis". He is also a Les Republicains politician in his own right, and a Departmental Councillor.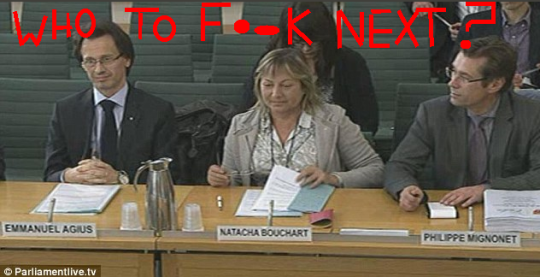 Other local government structures; "Communauté d'Agglomération du Calaisis" (CAC)
The Mayor's authority extends only to the main town of Calais. The surrounding suburb areas of Coquelles, Coulogne, Marck and Sangatte-Blériot have their own Mayors. These remained left wing in 2008 and initially were not under Bouchart's dominance; however now only Sangatte-Bleriot is socialist, with the others also taken by the right. The "Communauté d'Agglomération du Calaisis" is an administrative grouping including Calais and these four suburbs, which has its own council ("Conseil Communitaire"). As of 2016, Natacha Bouchart is now also president of the "Community", and so exerts considerable authority over the whole area.
The "CAC" is the owner of Marck Airport., a small airfield near Calais which has been used for deportation flights.

Motivations
Bouchart is a career politician, from a right-wing family and involved in politics since the age of 16. Local media present her as having single-minded dedication to political power, without close family ties or much of a social life. She doesn't appear as blatantly corrupt or money-driven, but the right wing political and business circles that provide her support base will certainly involve favours and relations of patronage.
Bouchart's anti-migrant stance seems less ideological than populist. Her original mayoral platform was focused on jobs and business rather than security. However she identifies the "migrant crisis" as an issue where she can attack her rivals on the Left, and seek to project strength, whilst also being mindful of the electoral threat from the FN. Her migrant policies can thus shift depending with the moment and "public opinion", from at some moments favouring facilities for migrants (outside the town centre), to taking up FN-style populist positions as with Sauvons Calais.
Under the Hollande socialist government, Bouchart repeatedly took outspoken stances against government policy in Calais, blaming the state for any failures to control the migrant "crisis". One well known  example was her attempt to block the building of the "Great Wall of Calais".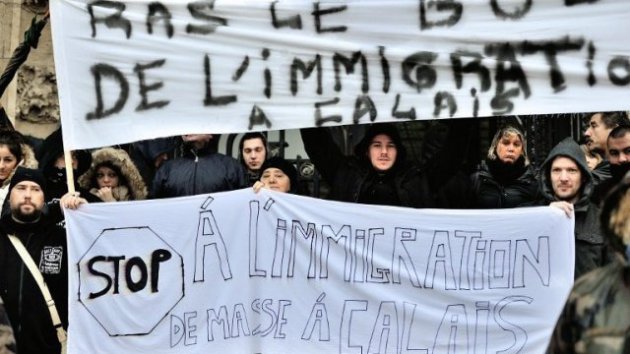 Activities in Calais
Bouchart has been a very loud voice for an anti-migrant "clean up" of Calais, using her position as Mayor, Senator, and now Regional Vice-President to repeatedly push a "hard line" in the media, in meetings with French and British authorities, etc. Mignonet has also done similarly. They have on occasion called for reversal of the juxtaposed control agreements (as did Bouchart's political ally Sarkozy), and got attention threatening to shut the Port.
D

irecting the "Chasse a l'Homme" in the town.
Patrols and raids are carried out by PAF and CRS, who are directed by the prefect rather than the mayor. So far, Municipal Police have not been involved. However, the Town Hall coordinates closely with PAF/CRS inside the town area, sharing intelligence and helping guide operations. In particular, Mignonet has often been present on larger raids. Town hall workers have often accompanied police on raids on settlements, including demolishing structures, clearing migrants' belongings, and spraying chemicals.
B

anning migrants from municipal facilities.
The Mayor has implemented measures to stop migrants using football pitches, swimming pools, the library, and other facilities in the town.
T

argeting squats and settlements.
The Mayor has tried to implement a "zero tolerance" approach to squats and other settlements inside the town. Dwellings on municipal land will be swiftly cleared. Where the Town Hall does not have direct control over property, it will use influence over land owners: e.g., organisations such as the OPH (French housing agency) that owns many of the empty buildings in the town.
E

ncouraging vigilante gangs.
In October 2013, Mayor Bouchart set up an email account for citizens to report migrant settlements in Calais. This call was swiftly followed by the establishment of an anti-migrant citizens group called "Sauvons Calais", which initially claimed to be supported by the Mayor. The Town Hall distanced itself from the group, however, after its main spokesperson, Kevin Reche, was revealed to be a swastika-tattooed Neo-Nazi.
S

upporting anti-migrant demonstrations.
In 2016, Bouchart supported the so-called "a-political" demonstrations organised by a group called "agir ensemble pour sauver Calais", which was fronted by a local shopkeeper and included representatives of the SEPD, ferry companies, and a port trade union.

B

locking pro-migrant spaces and events.
Bouchart has banned pro-migrant groups and events from using municipal property, e.g., shutting down the "A l'Uni Son" 2013 festival which was due to take place in the "Maison de Tous" community centre. She has also used the Town Hall's regulatory powers, such as around "health and safety" regulation, to shut down pro-migrant solidarity spaces opened in private buildings, e.g., the "Centre Zetkin" set up by Calais Migrant Solidarity in 2013.
F

unding and coordinating NGOs.
The Town Hall controls and influences funding for many NGOs, cultural spaces, etc., in Calais.
Before 2015, the Mayor had considerable influence over NGOs working with migrants in Calais, not only through funding but also, e.g., by managing access to municipal spaces such as the former Food Distribution sites in the town centre. The Mayor instituted and ran a semi-regular meeting called the "Conseil des Migrants", which despite the name involved no migrants, but gathered representatives of the NGOs and attempted to coordinate their work in line with official policy. This system was superceded with the creation of the Jungle outside of municipal territory and under the influence of the prefecture. It could return if the situation stabilises and focuses on the town again.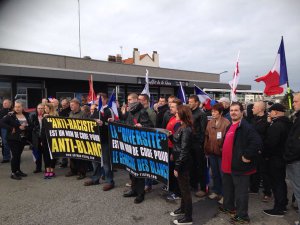 Relationships with other key actors
UK Government: not close contact, but Bouchart and Mignonnet have visited and met with UK authorities to discuss the Calais situation.
French Government: works closely with prefecture and police on everyday anti-migrant operations; but politically antagonistic (at least as a public stance) towards government policy.
Conseil Regionale: close allies since Xavier Bertrand's took over in 2015, and Bouchart is now regional vice-president.
Contractors and other relationships:
Biro Security: security contractor used regularly by the Town Hall for public events, also then won security contracts at Jules Ferry centre and Container Camp.